Sgt Douglas Betts (Pilot)
| | | |
| --- | --- | --- |
| | | |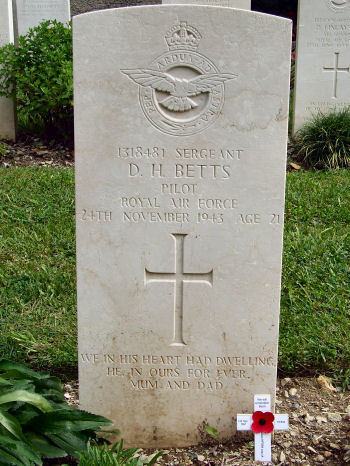 After the war, Eraldo Manfroni wrote to Sgt Betts' father Henry Betts, and received two letters in reply.
The father of Sgt Betts wrote to Eraldo on 30th September 1945. An image of the letter [24] can be viewed here. The content is as follows:
Dear Mr Manfroni
First on behalf of my wife and myself I must deeply thank you for the kindness you have shown to us. Yours through Dennis was the first we actually knew what happened to our dear son and it ended the agony of nineteen months waiting and hoping. It has at least eased our minds that he never suffered and is at rest in a grave on top of the mountain. He loved hills and the open country and we think he will be content there.
He also loved Italian music and has several records of their beautiful singers and bands. We have not yet had the story and poetry, as Dennis wrote that he would bring them when he came on leave. I wrote to the other parents giving your address and they said they would write to your personally and thank you.
We are hoping some time next year when transport is a bit easier to visit the grave and hope then to meet you and thank you for the interest and help you have given us.
We do understand how unhappy your beloved country must feel and how your former leaders have let you down so badly but I am afraid nobody gains out of war and all peoples must be made to realise the futility of it.
Your action alone shows that peoples of different nations have the same feelings and could live in harmony the best that each nation can provide. Again thank you for all you have done
Yours sincerely, H Betts
Sgt Betts' father wrote a further letter [24] just a month later on 28th October 1945 and can be viewed here. Its content is as follows:
Dear Sir
I thank you for the story of the last flight made by my son and his consequent death. I do not know how to thank you for the trouble you have taken to compose the story, the expense and the kindness behind it all.
I'm afraid we in England have got used to the mutilated bodies of civilians and airmen. It was a relief to learn that they all died instantaneously and that they were buried decently. We feel very grateful for the expressions of sympathy by your local peoples and would like to convey our thanks to the vicar and officials of the church for the Christian spirit they displayed to the mortal remains of my son and his friends.
I have written to the people mentioned by you and they will be writing to you themselves. I suggest you delete that portion dealing with the pitiful sight of their bodies but state their deaths were instantaneous and the subsequent burial portion, which is really beautiful. We hope to visit your country as soon as possible and to thank you in person for your kindness.
Yours sincerely, H Betts
---ooo000ooo---
The reference to "Dennis" in the first letter is partially explained by another letter provided by Eraldo Manfroni's daughter, Elisabetta. This letter was written by Trooper Dennis Lovell and is dated December 1945. His army unit, Prince of Wales Own Royal Hussars, acted as part of the "Army of Occupation" in both Italy and Germany at the end of the war. It is presumed that he had met Eraldo Manfroni during duty in Italy and had agreed to help contact the families of the dead airmen. The letter [24] can be viewed here whilst its content is as follows:
Dear Manfroni, I hope this letter will find you and all your dear ones in good health.
As you will see from the above address, I am now stationed in Germany. I have recently been to England for a 28 day repose and I did of course meet and speak with Mrs Betts. And I was very pleased to be able to tell Mrs Betts all that I know about the happenings at Venturello. Also Mr Betts said that you have written and told him the graves are being cared for, thank you. Mrs Betts is very pleased to know her son is buried in a proper cemetery. Perhaps in a year or two's time, when you are able, you could take some photographs. I am sure we would all appreciate it very much. I must finish this letter now, I once again assure you we all, family and friends, think a very lot of you and thank you.
I am your sincere friend, Dennis Lovell
Since the war further attempts have been made to renew contact with the family, using the last known address (Church Hill Road, North Cheam, Sutton, Surrey). Schools in that area have been contacted to see whether his name had been recorded on any memorial. Sadly, at this time it has not been possible to gain further information or a photograph.