A NEPHEW'S VISIT IN 1997
In May 1997, and with my wife, I was be able to visit both Stephen's grave in Staglieno Cemetery and also the village of Polverara.
The Commonwealth War Graves Commission sympathetically ensured that the graves of the crew of HF694 are next to each other. The Register of Graves lists the following:
| | |
| --- | --- |
| (The references to I.B.27 to I.B.31 are the grave locations.) | |
This was a truly emotional visit but, like all Commonwealth War Grave Commission cemeteries, Staglieno is beautifully maintained and a fitting memorial to the fallen. The cemetery contains the graves of 342 British and Commonwealth servicemen, 110 of whom died in the Second World War. The Staglieno cemetery records list the graves of 28 airmen (from 40, 104, and 142 Squadrons) who died on the fateful night of 24th November 1943. Other CWGC cemeteries in Italy contain the remains of other crews who also perished in the same operation.
991606 SERGEANT

S. F. SMITH

AIR BOMBER

ROYAL AIR FORCE

24th NOVEMBER 1943 AGE 26

YET ONE REMAINS

THO' MANY CHANGE AND PASS

HEAVEN'S LIGHT FOREVER SHINES
Stephen's gravestone is as described by Muriel Gordon and its inscription, from Shelley's poem "Heavens Light", accords with his mother's wishes.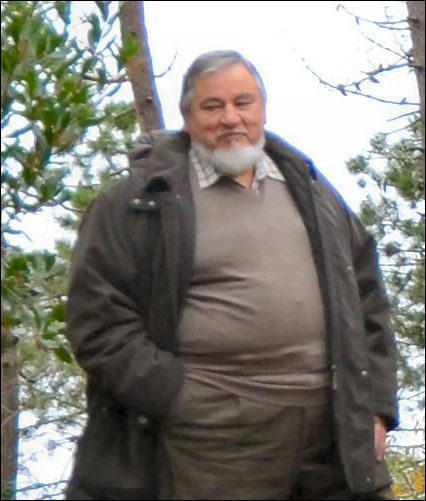 Franco Cozzani
Our visit to the village of Polverara was equally moving. We met a gentleman, Franco Cozzani, who had been a young child when Stephen's aircraft crashed. Like other children he had been taken to view the crash scene. Franco arranged for his son Giuseppe to drive me by tractor into the woods to try to find the crash site at Venturello. Later I exchanged letters with Franco and he explained that Signor Manfroni had died only days before our visit to Italy. If only I could have met him and thanked him for the comfort he must have given my family.
Before leaving Polverara we visited the beautiful village church of San Nicoḷ di Bari. It was here in 1943 that the coffins containing the five dead airmen were brought and given Christian funerals. On the arch is the inscription "Questo e la Casa di Dio la porta del Cielo" (This is the House of God and the door to Heaven). Poignantly the motto of the Royal Air Force is "Per Ardua ad Astra" (Through Struggle to the Stars).