7. Bad News
The Ilkley Post Office received the following Telegram at 6.16 pm on 27th November 1943: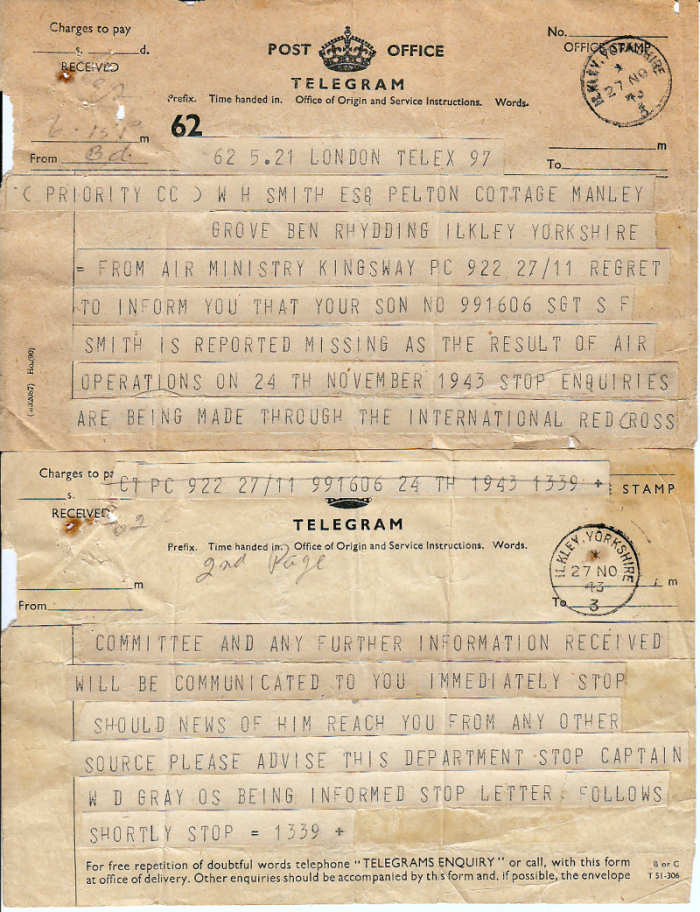 Written in pencil on the back of the fateful Telegram is what would seem to be the draft of a message to Stephen's brother, Philip.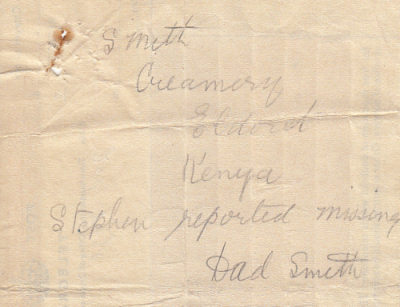 Various communications then took place between the Air Ministry Casualty Branch and Stephen's father, W H Smith. One such letter from the Ministry was dated 5th July 1944:
Sir,

I am commanded by the Air Council to state that in view of the lapse of time and the absence of any further news regarding your son, 991606 Sergeant S.F Smith, since the date on which he was reported missing, his death has now been presumed, for official purposes, to have occurred on the 24th November 1943.

The council desire me to express again their sympathy with you and Mrs Smith.
From the text of a Ministry letter dated 6th June 1945 addressed to Mrs C. Smith, Stephen's mother, it would seem that his family had yet to accept the official assertion that he had indeed perished:
Madam,

I am directed to refer to your letter of the 12th May 1945 and to express the Department's regret at the delay in replying thereto, which has been occasioned by the great increase in daily casualty enquiries following the occupation of enemy territory. It is deeply regretted that no further news has been received by the department regarding your son, Sergeant Stephen Fraser Smith, other than that already conveyed to you, and I am to assure you that, had he escaped and joined the Partisan Forces, the Department would have been informed and would have notified you at once.

I am to explain that the most exhaustive investigations are being carried out for news of the fate of all aircrews who have not returned, but owing to the magnitude of this sad task it cannot be said when these investigations will be completed. You may rest assured that should any information be received from any source, you will be notified immediately, but unhappily, the fact that the route of your son's last operation lay mainly over the sea and the absence of all news, points to the sad conclusion that the aircraft came down in the sea and that all her crew went down with her.
The hope that Stephen might somehow have survived was finally ended with the receipt of a further letter from the Air Ministry dated 20 June 1945