14. Crew Information
Since publishing this web site, on-going research and contact by relatives has enabled an increasing understanding of Stephen's fellow crew members. In each case, the starting point has been the entries in the Commonwealth War Graves Commission records. Accordingly for each of the crew, I have first repeated the CWGC information. This chapter will be updated as further information becomes available.
Last update December 2017
Sgt Douglas Betts (Pilot)

Eraldo Manfroni wrote to Sgt Betts' father, Henry Betts, and received two letters in reply. Attempts have been made in 2013 to renew contact with the family, using the last known address (Church Hill Road, North Cheam, Sutton, Surrey) but so far without success.
Flt Sgt Horace Hurnell (Navigator)

On the guidance of the Air Ministry, Eraldo Manfroni wrote a letter to be forwarded by the Ministry to the family of Sgt Hurnell. There is no record of a reply.
In June 2019 I received information regarding Horace Peter Hurnell from Eileen Bostle who is researching Minchenden School in Southgate (London) where he attended from 1933 to 1938. The family home was at 29 Eversley Park Road, Winchmore Hill, North London. Normally called Peter, his father was Horace Frederick Hurnell who was an army Lieutenant at the time of Peter's death. Peter trained as a navigator in the United States having sailed on the SS Neville from Gourock on the 13th March 1942 arriving in New York on the 25th March. The passenger list describes him as being 5 feet 10 inches, fair complexion, brown hair, blue eyes. At the present time no photograph of Peter has been found. There are, however two memorials that list him. The first is in the Garden of Remembrance in Broomfield Park, Enfield. The second, for which I credit the image of to Graham Frost of the Museum of Enfield, is of the Minchenden School 1939-45 Role of Honour. Peter's name is the fifth on the centre list. Of note is the fact that 55 former pupils from the school made the ultimate sacrifice.
Sgt Cyril Bowman (Wireless Operator)

Eraldo Manfroni wrote to Sgt Bowman's family, and received two letters in reply. Attempts were made in 2013 to renew contact with the family, using the last known address (Pembrook Road, Walthamstow, London).
In October 2015 an email was received from Mrs Dee Webb, niece of Cyril Bowman. She explains that Cyril's brother, aged 87, now lives with her and her husband in Billericay. She also states that a member of the family will be visiting the graves in Staglieno Cemetery during November. She has very kindly provided details and two photographs.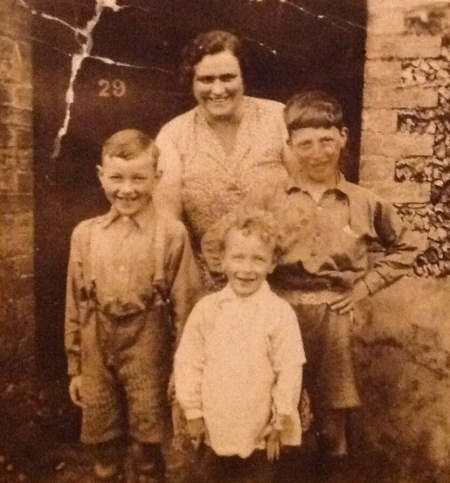 In this picture, Cyril is on the right with his two brothers, and his mother Emily. Dee's father, Stephen Kenneth, is the youngest at the front and his other brother, MacDonald George (Donny, who died in 2015), on the left.
At the age of 8 to 10, Cyril joined the Boys Brigade in which he remained until the age of 18 when he was baptised and he joined the Royal Air Force. At the age of 16 Cyril started work at a chemical company where he met his girlfriend. They became engaged and had intended to marry when he was discharged from the RAF. Since the war his then fiancee has visited Cyril's grave at Staglieno in Genoa and now at age 92 keeps in contact with Cyril's brother Stephen Kenneth, aged 87.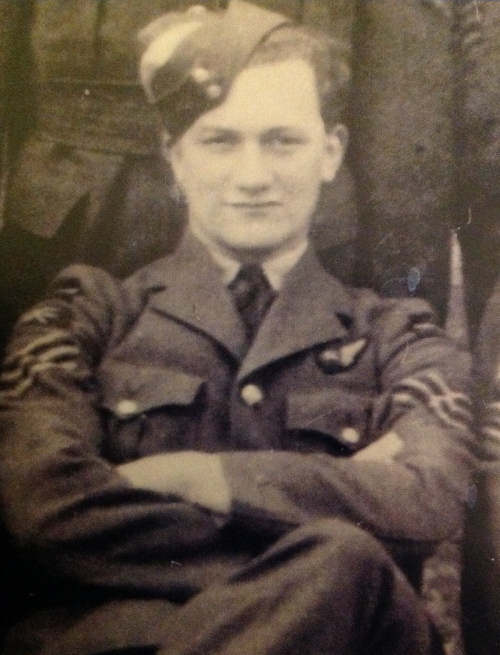 This picture shows Cyril having achieved the rank of Sergeant and proudly bearing his aircrew brevet. Behind him and at his left shoulder other uniforms are visible. His "Chipbag" hat still bears a white training flash. It would thus be reasonable to believe that this picture was taken at the conclusion of aircrew training. Having joined the RAF he spent some time at Blackpool (believed to have been basic training) before embarking for his Aircrew Training at a US Navy base in Jacksonville (USA). It would seem that this was Naval Air Station (NAS) Jacksonville, ICAO code KNIP, in Florida. So far from home he was glad of the friendship of a kindly couple who "took him under their wings" during days off and periods of leave. Whilst in the USA he visited Hollywood where he met Errol Flynn.
It was heartening to learn that Brenda Forsey, Cyril Bowman's niece, and her son have visited Staglieno. Such news reinforces my hopes that the sacrifice made by the crew of HF694 will not be forgotten.
Sgt Stafford Barton (Air Gunner)

On the guidance of the Air Ministry, Eraldo Manfroni wrote a letter to be forwarded by the Ministry to the family of Sgt Barton. There is no record of a reply.
I am indebted to Gary Shaw, historian who researches and writes about boxing. He has published an article [30], in boxingnewsonline.net, sensitively published on 24th November 2014, and thus exactly 71 years after the death of his subject Stafford "Buzz" Barton. It is something of a revelation to discover that Buzz Barton was born in Jamaica on an unknown date in 1915. His father was the News Editor for Jamaica's "Daily Gleaner" newspaper. He traveled to Britain in 1936, by then as Jamaica's middleweight champion. He was described as handsome, popular and, by all accounts, polite and respectful. It would also seem that he had a keen sense of duty, initially volunteering to join the ARP (Air Raid Wardens) before volunteering for service in the Royal Air Force.
Gary quotes Jamaican boxing referee Gordon Scotter who wrote "One of the best middleweight boxers Jamaica has produced, a clean, colourful and courageous fighter. We can be sure that Buzz died as he fought, cleanly and courageously."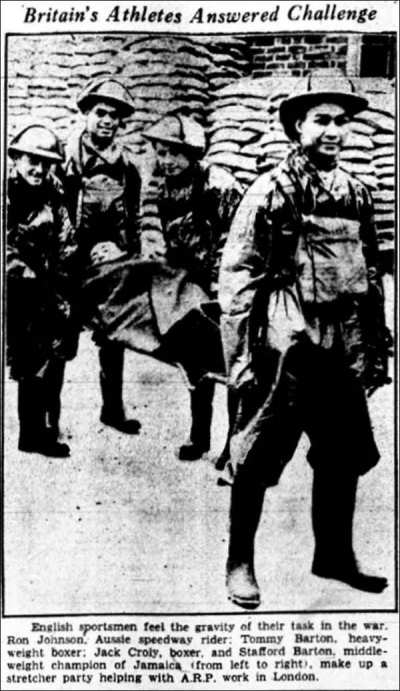 Stafford Barton is nearest to the camera. Note that Tommy Barton (heavy weight boxer) was not related. Copyright for this image has not yet been established.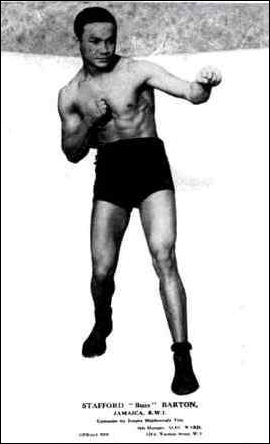 Sergeant Stafford Alfonzo 'Buzz' Barton. A true boxing hero who died a long way from his home in Jamaica but will not be forgotten. Copyright for this image has not yet been established.
In May 2016 I was first contacted by Audrey Weatherly who lives in New Jersey, USA. Living with her was her mother Sylvia who passed away after her 99th birthday in the spring of 2017. It transpires that a young Sylvia married Buzz Barton in Jamaica in June 1938. Whilst traveling to England in March 1939 she celebrated her 21st birthday. Following the loss of the crew HF694 Sylvia received a letter from Sig. Manfroni and even from Stephen's mother, offering condolences. Grief stricken at the death of Buzz, she remained in England until the end of 1948. She first returned to Jamaica before visiting an Aunt in New York. She decided to stay in the USA where, happily she met and married Audrey's father in 1951.
The text reads " To our dear ones at home.
From Buzz and Sylvia,18th Jan 1943 London "
Audrey has kindly provided this poignant photograph dated 18th January 1943. Buzz is wearing his Air Gunner's brevet and Sergeant stripes, indicating his completion of training. Sylvia would seem to be wearing a miniature replica brevet. Buzz joined the crew of HF694 in November the same year. He was born on 2nd May 1915.
Sylvia died in the spring of 2017 having celebrated her 99th birthday.